OLDHOME
Sorry, we are closed until March 2019. Yes! We can repair your Speedometer or Instrument Cluster and save you hundreds or even thousands of dollars. Trust us with your Speedometer Repair, Instrument Cluster Repair or Odometer Repair. We have been in business over 15 years repairing automotive electronics for people just like YOU!
Call us Toll Free - 888-803-8523
For Quick Answers try using our Live Chat (bottom right)
LED Upgrade Info Click Here
Try Our New Smartphone Friendly Site Click Here
Canadian Customers Click Here
---
Look Familiar?!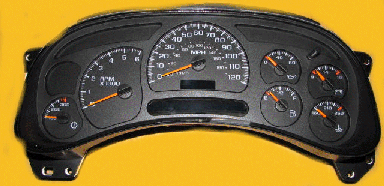 Speedometer Problems? Yes, we repair 2003 - 2006 GM full size trucks and SUVs Instrument Clusters with non-functional, sticking speedometers and other gauges - yes we repair totally dead instument clusters. Vehicles include Chevy Silverado-Suburban-Tahoe-Trailblazer-Avalanche, Cadillac Escalade, GMC Denali-Envoy-Sierra-Yukon, Hummer H2, Oldsmobile Bravada. Also includes Buick LeSabre, Rainier and Rendezvous, Chevy Cavalier, Impala, Monte Carlo, SSR and Venture, Isuzu Ascender, Pontiac Bonneville and Montana. Now offering LED backlighting - looks really cool! If your vehicle is not listed and you have speedometer problems in any GM 2003-2006 vehicle we can help. Thinking about buying a "Stepper Motor" Repair kit from ebay? Think again - you don't know how many times we have heard "I bought a stepper motor kit from ebay but I messed up the circuit board when I tried to install it - can you fix it?" Yes we can but you should save your time and frustration; use our service instead.

Repair price only $229 for all gauges - shipping included! Get your free UPS shipping label - click here now!
---
Welcome to Mr. Whizard Technical Services We are the Original Low Cost Instrument Cluster repair service on the web and we've been providing peace of mind for drivers like you for over 15 years! We repair many types of Electronic and Digital Instrument Clusters. Now you have an alternative to the high cost of replacement instrument clusters! Prompt panel repair is important; otherwise the panel may give faulty readings and send wrong indications to the driver.To get the most out of our website please take our Quick Tour!
---
Look At This! : We will repair your instrument cluster for one LOW price with all shipping included! Sound Good? Click Here for a listing of all the current instrument clusters we repair and repair price list OR Click Here for a listing of older instrument clusters and other auto electronics we repair and repair price list OR to find out more about FREE shipping Click Here
---
Shop With Confidence! We have a A+ rating with the Better Business Bureau and participate in the BBB online Reliability Program. Click on the BBB graphic to get a report on our Company.
---
See Our handiwork in the movie "The Fast and the Furious: Tokyo Drift" now out on DVD. For more info Click Here
---
Problems with the Nav System/Multi Display in your 2004 Toyota Land Cruiser, Highlander or Prius? Are you getting a message "The External System is not Connected"? We may be able to help you - call us at 1 888 803 8523.

Do you have a 2003-2008 Toyota Prius with dark speedometer/instrument cluster and during failure the vehicle can't be stopped and the trunk won't open? If so we want to hear from you. Call us for more details.

Here are a few of the Troublesome Instrument Clusters we repair:

New! 2004, 2005, 2006, 2007, 2008 Ford F250, F350, F450, & F550, E- Series Vans Instrument Cluster- Symptoms: Gauges sticking, inoperable, or giving incorrect readings, also brake light on, 4 X 4 light on, beeping for no reason. When cluster fails, radio, power windows or interior dome light does not work. Many think the power saver relay on the cluster is at fault - this is not true. Repair Cost $229

New! 2004, 2005, 2006, 2007, 2008 Ford F150 - Brake indicator warning light on cluster (bottom left corner) stays on or is intermittent. Dome light comes on intermittent. Entire cluster operation intermittent. Please contact us regarding blank LCD odometers. Repair Cost $229

1997,1998, 1999, 2000, 2001, 2002, 2003 Buick Century/Regal Instrument Cluster- Repair Cost only $229 USD includes all shipping. Symptoms: Very dim or dark odometer and gear indicator and/or information display.

2000, 2001 Nissan Altima, Frontier, Sentra and Xterra Repair Cost only $329 USD includes all shipping and LED backlighting upgrade. Symptoms: Gauges Freeze or stop working intermittently, odometer gets strange characters or blanks out. May happen when vehicle is warm or when driving with lights on.

New! 2006 Dodge Ram - Tach or speedometer erratic (tach goes fully clockwise). Repair Cost $229 - 2006 Dodge Ram Tachometer

NEW! 2007, 2008 Chevrolet Equinox Instrument Cluster - Symptoms: Speedometer and other gauges sticking, don't reset to 0. Repair Cost $229

NEW! 2007, 2008 Suzuki Grand Vitara XL7 Instrument Cluster - Symptoms: Speedometer and other gauges sticking, don't reset to 0. Repair Cost $229

NEW! 2007,2008,2009 Chevrolet Avalanche, Silverado, Suburban, Tahoe, GMC Sierra, Yukon, Hummer H2 Repair Cost only $229 USD includes all shipping. Symptoms: Very dim or dark gear indicator (PRNDL) and Driver Information display (odometer).

2005 Ford Mustang- Repair Cost only $229 USD includes all shipping. Symptoms: Speedometer and other gauges not working properly.



1998, 1999 Nissan Frontier Instrument Cluster - Symptoms: Gauges not working or intermittent. Odometer reads 999999. Repair Cost $229
...I just wanted to thank you for the great service & quick turn around time on my 1998 Nissan frontier cluster. I had sent this to an electronics repair shop in the south. They had my unit for over 2 months & told me they could not obtain parts, however you were able to repair in 24 hrs.
Its a pleasure to do business with a competent & honest person.
K.Smith - Dubuque, IA 1998 nissan frontier instrument cluster

1993, 1994, 1995, 1996, 1997, 1998 Honda Accord Instrument Cluster - Symptoms: Speedometer and odometer dead or intermittent. (When not working speedometer needle may sit between 15 and 20 mph even when the car is not moving.) Repair Cost $229

1989-94 Blazer/Jimmy/S-10/Bravada Digital Unit - Repair Cost only $229 USD includes all shipping!!

1996, 1997 Pontiac Grand AM Instrument Cluster-

Repair Cost only $229 USD includes all shipping!!

1999-2001 Ford F150,250, Expedition with fading/intermittent/blank Digital Odometer- Repair Cost only $229 USD includes all shipping!!



To see the complete list of units we repair Click Here or for older instrument clusters, climate controls, radios and other stuff Click Here.
Intermittent odometer and gear shift selector on your Chevy Silverado or GMC Sierra? - call us toll free now 1 888 803 8523!

Yes we can repair International 4700 Trucks intermittent instrument clusters!

We offer worldwide Instrument Cluster repair service with happy customers in the USA, Canada, Argentina, Brazil, Finland, Germany, Norway and Sweden. Where are you and how can we help you?

We repair many makes and models of Instrument Clusters. Click Here for a listing of the Instrument Cluster types we repair or feel free to call us with your specific requirements. Sorry, no odometer altering service. We do not sell parts or provide information for those who want to repair their own instrument cluster. We will be glad to help diagnose your particular fault.
Please call us (toll free) 1 888 803 8523 (6:00 AM - 6:00 PM CST 7 days a week)or Email Us anytime and we will be glad to answer any questions you may have.
Not sure about shipping your Instrument Cluster to us for repair? Perhaps our Customer Testimonials may help.
---

* "Instrument Clusters" refers to any components of a vehicle's gauges; including speedometer, odometer, battery gauge, oil pressure gauge, temperature gauge, fuel gage and Drivers Information Center.
These gauges can be either analog (the needle type) or digital.
In most cases all these gauges are housed in a single unit or cluster. This may be also refered to as a speedometer, speedometer cluster, instrument cluster, dashboard, instrument panel, combination meter, ipc, gauge cluster or just plain dash.
Our business is to repair one or more gauges or total failure of an instrument cluster.
*All repair prices listed are for the US and Canada only. Other countries slightly higher. All prices quoted on this website in USD.
Site updated: August 28, 2018


We are your one stop source for SPEEDOMETER REPAIR, INSTRUMENT CLUSTER REPAIR, GAUGE REPAIR, FUEL GAUGE REPAIR, INSTRUMENT PANEL REPAIR, GM CLUSTER REPAIR.